The studio is located in the 19th district of Vienna, Austria and provides a beautiful environment to create great music. We have been responsible for music and sound designs since 1980 and have scored the music for many different projects in the film and television industry. Our experience and knowledge shall be your advantage in taking your project to the next level.
The Composer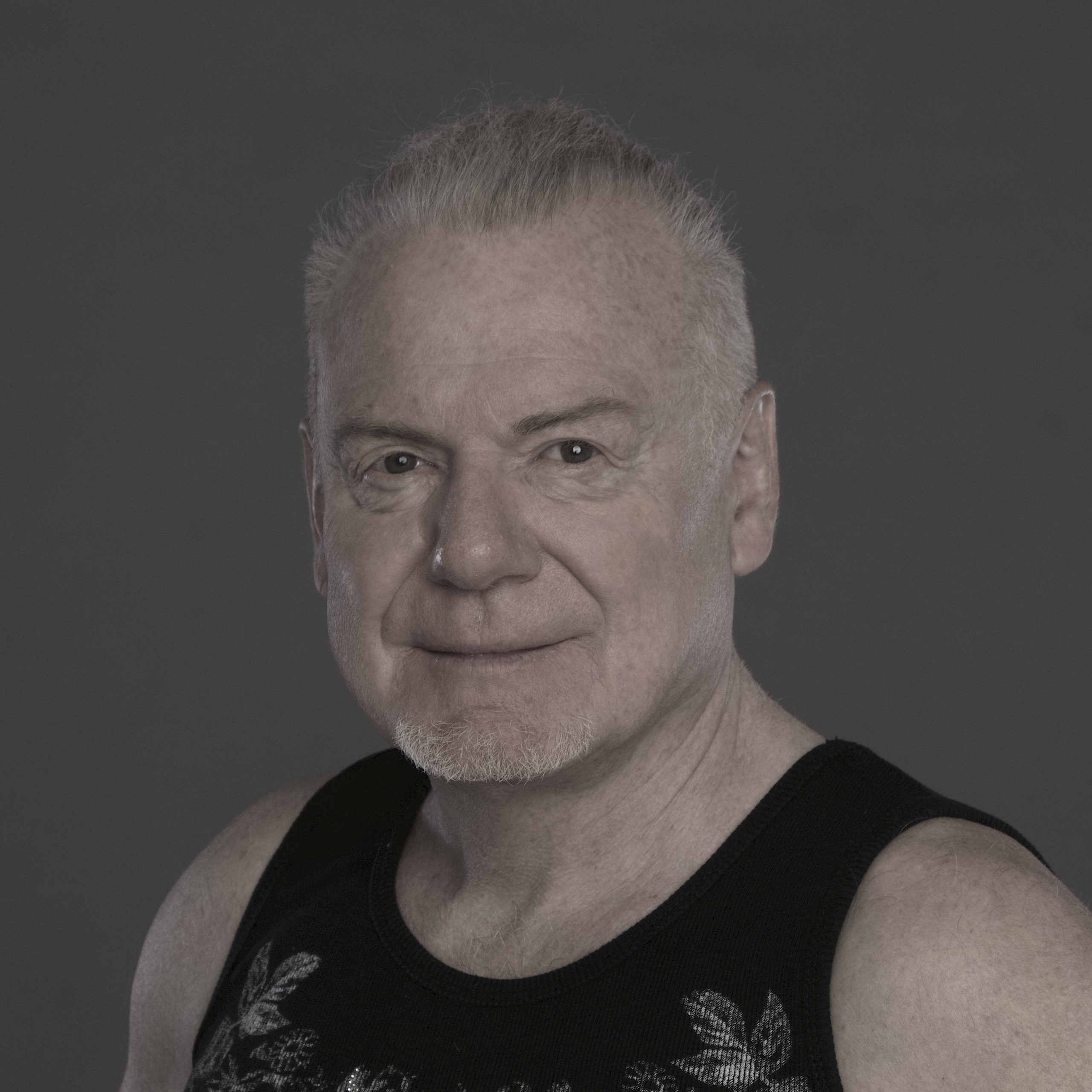 Freddy Gigele
Freddy Gigele is an Austrian composer and music producer who became known in the 80s as the lead singer of the rock band NO BROS (Be my Friend). After he moved from Tyrol to Vienna, he studied for two semesters at the Konservatorium Wien University and at the same time started to work on the film musical Müller's Büro, for which he composed ten songs. Also the collaboration with ORF (Austrian Broadcasting) started and over the years developed into a close relationship that has produced uncountable TV-jingles and music designs the ORF audience knows well.
The connection to the children's program (Confetti TV in 1992 and Okidoki since 2008) is especially strong. He produces for and also performs in shows. Freddy und die Wilden Käfer and the corresponding CDs and DVDs not only climbed the Ö3-charts but also ranked number one in the ORF shops for four years and enjoy iconic status by now.
His fruitful collaboration (since 1993) with best-selling author Thomas C. Brezina (Tom Turbo) must be especially emphasized. 2009 Freddy Gigele won the Eyes and Ears Europe Award for the opener for Trickfabrik.
ARD (Polizeiruf 110 title music) as well as Premiere (music design) are clients. Freddy is father to five children and lives in Vienna.
Composing & Recording
Our recording rooms are filled with musicality, from the most used instruments like Guitars, Basses, Drums and acoustic Piano over classic ones like Timpani, Vibraphone, Xylophone to the very exotic ones like an Indian Harmonium, Djembe, Congas and several other world percussion elements.
All our acoustic instruments in comparison with the best software instruments on the market, are the tools to create realistic and authentic scores on a highly professional level.
When it comes to recording the choice of the right microphone is the first ingredient to make your signal sound the best it can be, that's why we use brands like Neumann, AKG, Schoeps, Shure, ect.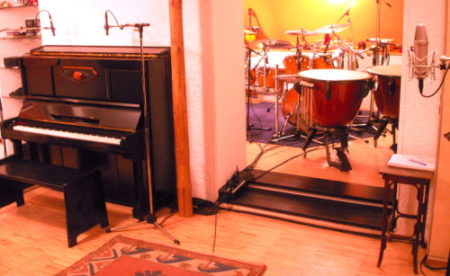 The technology behind it all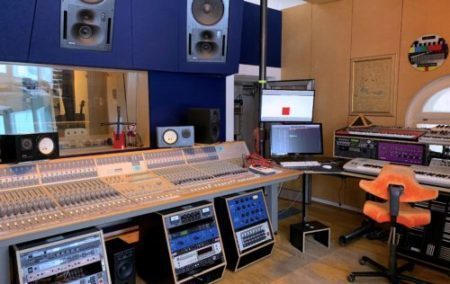 In the centre of our mixing room stands an Audient ASP 8021 full analog desk with which we sum up the signals coming out of the DAW,
by doing that we still have the best of analog sound and the fast and practical digital workflow.
We use Logic Pro X and Pro Tools Ultimate for Composing, Recording and Mixing and combine these with a lot of high end hardware devices such as Preamp, Compressor and EQ from Tube Tech, Manley Variable MU Compressor, the famous Quantec Room Simulator and many more..
Editing, Mixing and Sounddesign
On our second workspace we create most of the effects and sound design for the TV-series, advertisements or commercial music we produce or work on.
We also use Logic Pro X and Pro Tools Ultimate as primary DAW's and share the same recording rooms as the big mixing area.
The speakers we use are some well-known classics, the legendary Yamaha NS 10 can be spotted in nearly every professional studio around the world.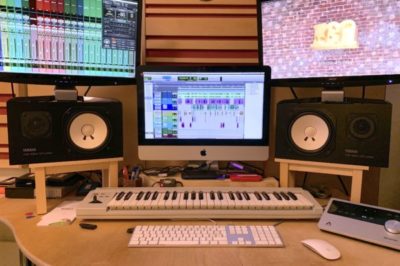 Services
Custom Order
Get impressions of our work, and order what you need immediately!
Composing & Sounddesign
Finding the right sound for your production is our specialty. Music custom-tailored for films, TV shows, and commercials.
Studio
All tracks are produced with state–of–the–art equipment and decades of experience in mind.
Commercial Use
Of course, free to use our music for all commercial TV stations with contracts with collecting societies.
Recording
Whether you need a great sounding voice over recording or an entire symphonic orchestra, we will make it happen.
Editing & Mixing
Fine tuned and optimized to achieve its full potential.