Find the music
Search our Elements of Music store and find the right track for your project. On the right side you will find many categories and tags to choose from. You can either click them or use them as filters.
Because all tracks are tagged with keywords you can type in the search field to find specific titles.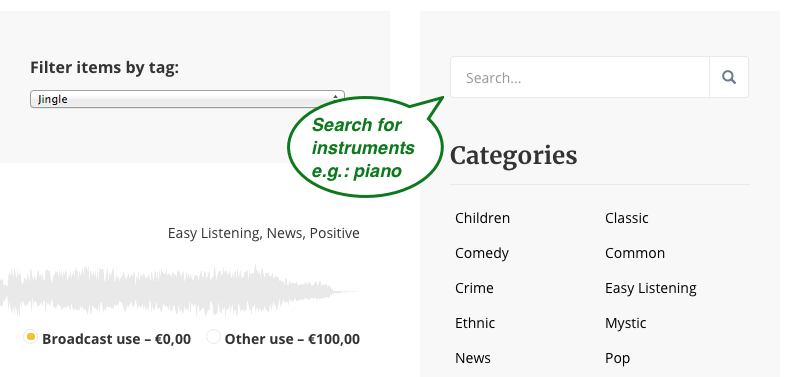 Choose the right option
Anyone working on an audio or video production that will be broadcast or otherwise publicly presented and registered with a collecting society, please choose BROADCAST USE.
If you want to use our library for a project that will not generate any revenue through a collecting society, please choose private use.
For more information on who is eligible to use our library free of charge, please visit our FAQ page.

Download
After you purchase a track you will receive a download link via e-mail. Each track is provided in .wav (48 kHz, 24 Bit) and .mp3 (192 kBit/s) file formats. You can use these links as often as needed.
Additionally, we provide all necessary information that is required for broadcast use.
TV stations and production companies
Our library maybe used free of charge for TV stations and production companies with contracts with collecting societies (AKM, GEMA etc.). At purchase we ask that you provide your contact information and affiliation. Feel free to download as many tracks as you want and try which ones work best for your show. When you do use music from us in your final product, we ask that you register with a collecting society according to national and international laws .